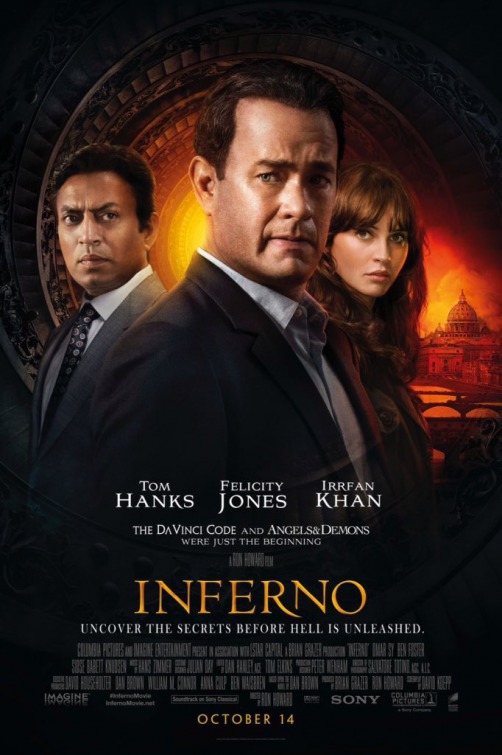 Considering my general anger about the whole thriller genre it shouldn't come as any surprise to you guys that I'm not a fan of Dan Brown. However, this dislike comes from a place much deeper than mere genre. It basically comes down to the fact that Brown is a fucking shit writer. Something that is even more worrying when you consider he used to be a creative writing professor. Still, it's something that seem unwilling to admit. I have had several arguments with people over the years about why his books are so awful but Dan Brown's fans are as stubborn as his books are dull. There's no way around it, Dan Brown just doesn't know how to write. He uses words in completely nonsensical ways; he's incredibly repetitive; his dialogue is clumsy; he gets bogged down with insignificant details; and he's incredibly repetitive. He's a man who's name should be Dan "tautology" Brown and who should really ask a creative writing professor what a real metaphor is. Not only is his writing bad but it's incredibly simplistic in the midst of all the biblical/ literary history. I mean each chapter is about 2 pages long and each one ends on some kind of underwhelming cliffhanger. It's fucking awful. However, desperately trying to find something positive to say, Dan Brown's stories do make fairly adequate cinematic experiences. Once Ron Howard and co manage to remove all the bullshit and get down to the puzzle then it's not quite as bad. I mean it's not good but it's not the worst thing I've ever seen. Plus, Tom Hanks is so fucking likeable that it's easy to get swept away. So, despite the fact that I never bothered to read
Inferno
I was interested in how it would work on screen.
Inferno
is the third attempt by director Ron Howard to bring Dan Brown's character Robert Langdon to the big screen. This time we've moved away into the literary world because the novel was basically Brown's way to show off how much he knows about Dante. Langdon (Tom Hanks) wakes up in Florence with a bullet wound in his head and no memory of the last few days. Thankfully, a kindly assassin soon turns up to remind him that he's in the middle of some bad shit. With the help of his doctor, Sienna (Felicity Jones), Langdon figures out that he's on the trail of a deadly plague that's set to be released and wipe out half of the world's population. It was produced by crazed billionaire geneticist, Bertrand Zobrist (Ben Foster), who believes that the only way to solve the population crises is to wipe out most of humanity and start again.
Following the clues that have been left, Langdon and Sienna follow a trail connected with Dante's works and personal history. All the while the pair are being tracked by not one but two sinister organisation. The first is the World Health Organisation, headed up by Elizabeth Sinskey (Sidse Babett Knudsen), who, as it happens, used to bang old Robert back in the day. The second is the hilariously names private security firm The Consortium and their CEO Harry Sims ((Irrfan Khan)). It was the latter who sent the previously seen assassin, Vayentha (Ana Ularu), who is tasked with killing Langdon before he can track down the vial containing the virus.
If you've read any of Dan Brown's books or seen any of the other adaptations then you won't be shocked at what unfolds here. Brown's stories are rather formulaic at this point. Someone dies in the opening, Langdon starts looking for clues and shows an insane awareness of all aspects of history and culture, and comes across many shady people and plenty of double-crossers. The actual narrative is so absurd and outrageous that it's best to pay as little attention to it as possible. I mean if you really start thinking about why people do things the way they do then you'll fall into so many plotholes that you'll make it all the way to China. Now I'm not saying that you can't enjoy a thriller when it's utterly stupid; God knows some of the best films I've ever seen are also the silliest. Still,
Inferno
is more than just a dumb thriller, it's also one of the most pretentious and egotistical thriller you'll have seen for a while. The main problem I have with Brown and his stories are that they think they are much more intellectual than they actually are. A thriller that's as outrageously bad as this that also wastes so much time dissecting Dante's
Inferno
is the ultimate oxymoron.
But it tries to keep its audience entertained despite this. There are more twists and turns than you really need and people change their allegiances so much it feels like an episode of
Game of Thrones
. There are plenty of action sequences along the way where the ever weary Langdon is expected to face off against men with guns, women with guns, and men with knives. Although, Howard really doesn't seem to know how to deal with these action sequences and everything comes across as really confusing. The main attention is given to the more sedate aspects of the puzzle solving which means the film drags and gets pretty boring pretty quickly. By the end I was desperate for the virus to be released so it would kill everybody on screen and end my misery. In the Dan Brown tradition,
Inferno
is part awful thriller and part tedious lecture.